Solar coolers sound futuristic, but they're here to stay. What is a solar cooler? How can it be used? We'll be looking at this unique product in this article. 
A solar cooler is a portable container designed to harness the sunlight to cool your food and drinks. It runs on a compact refrigeration system that is connected to solar panels.
This is clean and free solar energy you can use anywhere.
The solar cooler collects solar energy through the solar panel, stores its power bank, and then sends this energy to the cooler's refrigeration system.
Who needs a solar cooler?
Solar coolers are great for beachgoers, RV owners, campers, boaters, fishers, and backyard parties. 
For people living in off-the-grid locations without AC power, or for folks in places where electricity is unreliable. You don't have to worry about your food going bad after power cuts ever again.
For emergency preparedness people. During natural disasters like floods and hurricanes, power is likely to go off for a couple of days. Harnessing solar to cool your food and drinks during time is smart. 
Why you need it
A solar cooler offers the easiest way to keep your food and drinks fresh while being outside your home. 
If you're someone who enjoys the outdoors, you will understand how ineffective regular ice-filled coolers are. The ice melts, and everything becomes soggy after a couple of hours. 
However, a solar cooler can keep your food cold at temperatures as low as -4°F without an electric outlet for 24 hours. And because the temperature can be adjusted, solar coolers provide more value to users. 
They also come in rugged designs that make them durable for parties and trips. Solar coolers don't need cooling packs or ice, so this means more space for you to store your food and drinks. You don't have to bother about replenishing your ice supply every other hour.
Of course, solar coolers don't need fuel, gas, or AC power. They produce no waste or carbon dioxide. 
The best solar coolers come with handles that make them portable. Asides keeping your beer or wine cold for the party, a solar cooler can even be used to preserve medicine while traveling to remote regions with no access to electricity. 
Which Solar Cooler Should You Buy?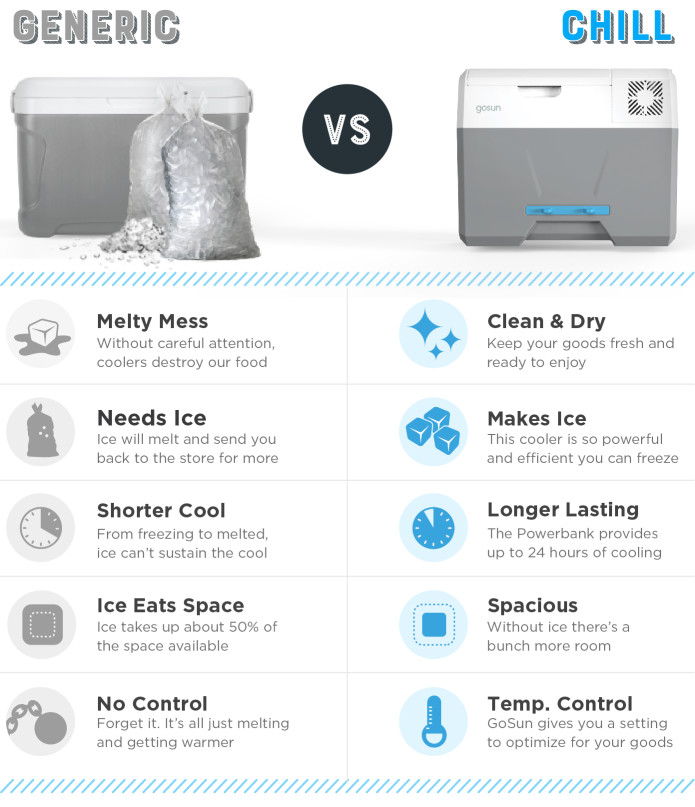 GoSun's CHILL is, of course, the biggest name in the market when it comes to quality and affordable solar coolers. 
Inside the CHILL box
In the package, you will find the solar cooler, a PowerBank+, the soft-touch case, an AC adapter, and a user manual.
Capacity
Weighing about 28 lbs., CHILL is one of the most spacious solar coolers out there. It does not even need ice to work. This means your food can be preserved and arranged in an arid space. The ice-free compartment means more space for cold drinks and fresh food. 
That is twice the space for drinks and foods when compared with regular coolers of the same dimensions.
With a capacity 40 liters, CHILL does the job by insulating its inner compartment, using closed-cell polyurethane foam and R-10 technology.
The Powerbank+ and runtime
The PowerBank+ (weighing 2.2 lbs.) has a runtime of 14 hours. This means a fully charged PowerBank+ will keep your food and drinks cold for a solid 14 hours. Another added advantage is that the PowerBank+ allows you to charge your phones, tablets, laptops, and other portable accessories
Dual power source.
Using a brushless compressor technology, CHILL can be powered directly from portable solar panels or the PowerBank+. This means you can use the solar cooler at night when your PowerBank+ has charged by daytime solar energy. 
Portability
The CHILL comes with a pullout handle and built-in wheels. So whether it's enjoying a beer in your backyard, sailing, on the beach, fishing, or camping, CHILL goes everywhere with you. 
Temperature settings
With its temperature control feature, you can adjust cooling to go from 68°F to as low as -4°F, using the touchscreen feature on the product. 
Supplementary products:
SolarPanel 30+
To power your CHILL solar cooler, you will need a solar panel. This is where this compatible and affordable SolarPanel 30+ Foldable 30W Solar Charger comes in.
Via the PowerBank+, this solar panel delivers solar energy to your solar cooler seamlessly.
Weighing 3 lbs, and delivering a power output of 30 Watts, this affordable solar panel is collapsible for easy moving, waterproof, and weather-resistant.
The ultra-thin, foldable solar panel is connected to the USB port of CHILL solar cooler. 
SolarTable 60
You can also choose to go SolarTable 60 to power your CHILL solar cooler.
SolarTable 60 is a portable charging table with a built-in solar panel and tempered glass surface. This charging table supplies your CHILL solar cooler with solar energy and serves as a sunshade and a regular table for your food and drinks.
Producing 60 Watt of energy, the SolarTable 60 provides the quickest way to recharge the PowerBank+. It comes with three USB ports, so you charge other devices as well. 
Easy installation
Setting up the CHILL solar cooker is straightforward. Simply plug the solar cooler's PowerBank+ into your solar panel setup. Your setup could be the foldable SolarPanel 30+ or the multi-purpose SolarTable 60. 
Energy efficient
CHILL sets itself apart from the rest by being energy-efficient. The PowerBank and cooler design are specially designed to maximize solar energy coming into the system. 
CHILL solar coolers can even be used to supplement your household refrigerators, as you significantly cut down on your energy bill. 
Go green
Because CHILL runs on solar energy, it provides nature-lovers the purest form of energy, while reducing the chances of AC-power related accidents.
Easy maintenance
Of course, as this product has no moving parts and doesn't need gas or fuel, there is little or no maintenance required. 
Final word
Solar coolers win every time just because they are so convenient and eco-friendly. There is something special about making ice with sunlight. While they seem like a significant investment at first, nothing beats enjoying ice-cold drinks or eating second-day fish in the middle of nowhere.
For more interesting solar solutions, check out GoSun.