Disinfecting Wipes: How To Make Them
The demand for Disinfecting wipes took an upside turn due to pandemic like coronavirus. This has caused shortages for disinfecting wipes and an interest in how to make disinfecting wipes. It's been more than six months since we live in the middle of the pandemic, and since than, we have learned lots of things. We have learned the importance of wearing face masks, hand washing, and disinfecting surfaces with appropriate sanitizing methods.
Other than the coronavirus, disinfecting wipes are helpful in stopping diseases and germs from spreading. If we take the precautionary measure, there are quite fair chances to prevent cross-contamination. The Center for disease control and prevention (CDC) has given so many instructions about the coronavirus disease 2019. We only need to take the guide from there and accordingly. 
How to stop the spread?
If we take a deep dive into the CDC website, then we can see a list of instructions to contain the spread of germs and viruses. The importance of wearing a face mask remains the same to survive this disaster.  One of the best preventions to stop it is the usage of disinfecting wipes with 70-90-% alcohol. If you want to ensure the uninterrupted supply of sanitizers, sprays, and supplies, you should search for something related to this.
Where to find supplies?
It is vital to find a source that provides a premium quality product at a fair price. Crown Sanitizer is one of the best places to find premium quality disinfecting products at a fair charge. Here you also have the opportunity to buy in bulk if you want to save extra money.
Star products of crown sanitizer 
Here are the star products that you can use to make homemade disinfecting supplies. You also have the option to buy these items from the leading website in case of need.
The gallon-sized crown hand sanitizer; You can use it to make homemade disinfecting wipes or buy in bulk to meet your needs.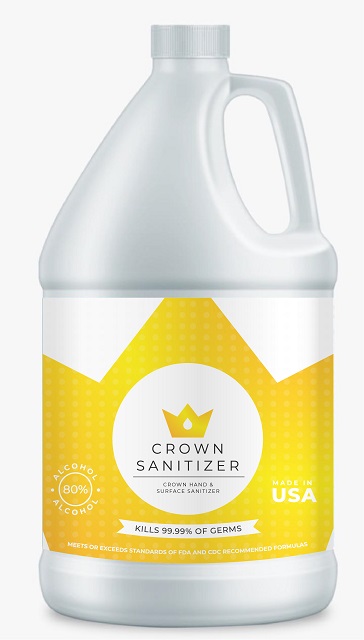 The gallon hand pump; it is another necessary item to make a homemade spray from the bulk-sized gallons. You can use the pump to ensure a safe hand-sanitizer refilling process.
Apex sanitizing wipes; You also have the option to buy apex disinfecting wipes. These wipes come in an airtight container with 70% alcohol, and each container has 50 wipes in it.
Features of the Crown Sanitizer
The sanitizing products can kill 99.99% of germs and viruses that cause illness.

All of the disinfecting products have at least 70-90% of alcohol which is the recommendation of the World Health Organization.

It is a USA based company with all products  "MADE IN USA"   and they are FDA registered.

It is ISO 9001 quality approved facility with an entirely USA based manufacturing system to ensure customer satisfaction.

Unlike other companies, you can buy sanitizing products in bulk to make the DIY sanitizing products.
If you buy the gallon, then the price is cut by half, and you will pay around .35 cents per once. The single gallon is enough to fulfill your whole family or business's needs for quite some time. Here are the following things than you can make with the bulk-sized sanitizing gallons; 
Refill the travel size or purse size sanitizer bottles 

Make the DIY sanitizing wipes.
With the help of crown sanitizer, you do not have to worry about the supply of essentials to keep your loved ones safe and protected. 
How to make disinfecting wipes?
It is the real concern because there is very little supply of disinfecting wipes in the market. So, it is like a treat that you would be able to make your own at home using crown sanitizer's products. You have the option to make one-time use wipes or re-usable ones according to the need. So, here are the following things that you are going to need for the homemade wipes; 
Products for One-time use wipes; 
Roll of paper towels  

A ½-1/3 cup of sanitizing material

1 gallon of water 

An airtight container that is large enough to fit the towel  

Pair of gloves to keep your hands safe. 
Products for re-usable wipes;  
microfiber kitchen towels 

1/3-1/2 cup of sanitizing material 

1 gallon of water 

An airtight jar which is long enough to keep the towels

Pair of gloves for the safety 
Precautions to take before you begin;
Crown sanitizer has an excellent supply of products that can kill germs and viruses. But it is vital to take precautionary measures. So, here are some tips and tricks that you need to consider before starting the procedure;
It can be a little harmful to people with sensitive skin; that's why it is good to wear rubber or disposable gloves.

Do not touch your face, eyes, and ears while doing all procedures.

If you are using bleach, then cover your towels because it can harm them. 
What is the recipe for homemade disinfecting wipes recipe?
After getting all the supplies, you need to follow the following steps to make the homemade disinfecting wipes;
Set up your supplies on a safe and clean surface, away from the children and pets. 

Do not forget to put on your gloves.

Get a roll of paper towels or microfiber kitchen towels and cut it into pieces according to your need. Cut the sheets in a size that can easily fit into the airtight container.

Now pour the crown sanitizer over paper or towel thoroughly. Keep it that way until the sanitizer dampens the towels and shake.

If you are using the roll towels, then do not forget to remove the cardboard tube. 

The last step is to open the container and put the wipes into an airtight jar and use as needed.
You can use these wipes to clean any hard surface, counter, tops, doorknobs, phones, etc. or take them with you and use when needed.
Refill the travel size sanitizing containers
As discussed above, we can refill the travel/purse-sized bottles with these large gallons of sanitizers. So, here are some tips to follow for this;
Do not forget to wash the bottles thoroughly and dry them before refilling. 

It is good to use a small funnel for refilling, but in case if you do not have the access, then cover the surface with a cloth to avoid spillage.

Now, the last step, carefully put the hand or surface sanitizer into the bottle.
Final verdict 
So, crown sanitizer covers you from all sides, whether you want to make wipes and to disinfect supplies at home or want to buy from them. You can choose from both options according to convenience and budget. With effect from the above conversation, "Crown sanitizer" is a fantastic way to beat coronavirus according to CDC recommendations. Click here for Crown Sanitizer products.